Microsoft launches new Accessibility Assistant for Microsoft 365 apps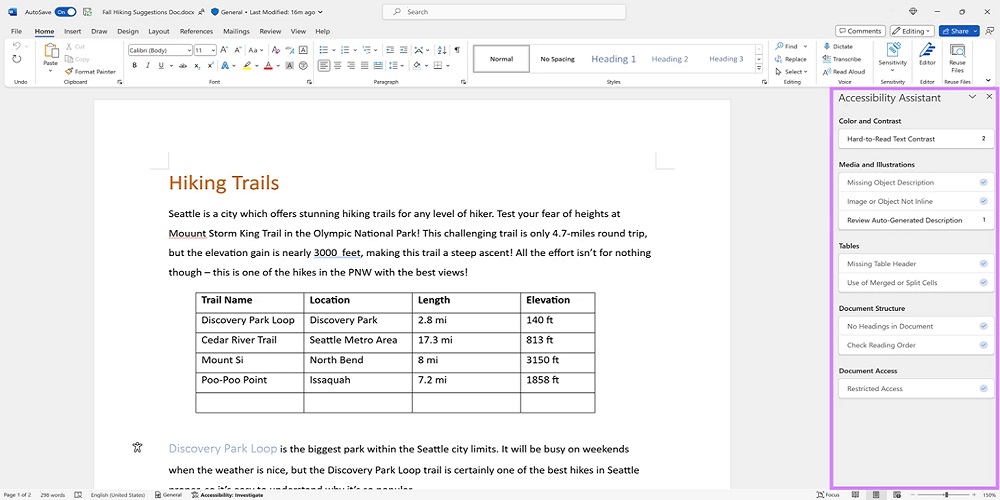 Microsoft is launching Accessibility Assistant in Microsoft 365, a new set of tools designed to help creators create more accessible content during their workflow.
The Redmond, Wash.-based IT giant says Accessibility Assistant expands on the existing Accessibility Checker by introducing better defaults that prevent problems before they happen, real-time and in-context remediation to fix problems on the go, and instructions that appear. at work.
The tools include a new color picker in Microsoft 365 apps that takes into account creative license and the need for appropriate contrast between text and background. The device has two modes, according to Microsoft's blog.
"One looks the same as before, but adds a tooltip to help guide you to colors with the right contrast," Microsoft writes in the blog. "While toggling the high contrast switch takes you to a different experience, narrowing down the color settings to match your contrast requirements (plus a range of available options to suit your chosen theme and design)."
The company is also making its accessibility tools more of a spell checker, introducing a new type of flag that alerts users to accessibility issues as they type. According to Microsoft, this is to help creators avoid ending up with a project and having to fix more issues.
According to Microsoft, the tool flags low contrast between text and background, the most commonly encountered accessibility issue in Word documents. If there's a problem, an accessibility icon will appear, similar to the signs under spelling and grammar problems in Word. Clicking on the icon displays a context-sensitive card that helps users make repairs.
With an almost equal split of workers who prefer to check spelling and grammar as they work, versus at the end and both, Microsoft is introducing a Microsoft Editor-like Accessibility Assistant pane that offers plain-language explanations to help users solve entire categories of problems in treatment. accessibility issues more easily.
The company will launch the Accessibility Assistant app in the coming weeks, and the Accessibility Assistant panel later this year.
The assistant will gradually replace the Accessibility Checker in core Microsoft 365 apps and will cover a wider range of issues and include more intelligent features, Microsoft says.