Michael Cusack's animated series Koala Man is now streaming on Disney+
It's been years since Michael Cusack lived in Dapto, the Wollongong suburb where he was born and raised. But even now that the 32-year-old writer and animator divides his time between Melbourne and Los Angeles, the voices, attitudes and humor instilled in him remain. Most of his previous animated series take place in what Cusack describes as "a bizarre Dapto", and his latest, Koala manis no different.
"I thought about superheroes: Batman has Gotham, Spider-Man has New York. If you were in a small Australian suburb it would be fun, says Cusack, calling in from a short holiday on Kangaroo Island in South Australia before Disney's global launch of Koala man kicked into motion. "I think it's funny to put Dapto on the screen because growing up you always see American stuff – so many movies with Los Angeles. Why not Wollongong?"
Peppered with crazy language, serious stresses and absurdist events, Koala man is a superhero show where the hero is pretty average. Voiced by Cusack with just the right tone of bowls club self-delusion, Kevin is a suburbanite obsessed with making a difference in his neighborhood. Donning a mask and cape to become Koala Man, the husband and father of two cracks down on littering, regulates unkempt front lawns, and generally lets the locals know "what you're doing here isn't on".
"There's a specific type of dad who almost wishes they were a cop, but they never were, so they want to take the law into their own hands," says Cusack. "They're always like, 'Someone has to do something about this behavior,' and that's usually how a traditional superhero story starts. The key to keeping this Australian is that Kevin doesn't actually have any superpowers."
Load
The show is funny, irreverent and filled with some uncomfortable Aussie truths – we're not the rule breakers we like to think we are. Like a show Koala man has all the distinctly Australian threads, complete with a high-profile supporting voice cast that includes SuccessionThere's Sarah Snook as Kevin's capable wife, Vicky, and Hugh Jackman as Big Greg, Kevin's ponytailed blonde boss and deathly Dapto legend. You have to wonder: did the Americans know what they were getting?
"Sometimes when Americans are confused, it's even funnier for them. I was a little worried, but I was also confident that we grew up on The Simpsons and it had words we didn't understand, but I still got it, and it was still funny," says Cusack. "I hope the flip side is still the case – it's more fun for them if they don't know if something is real or I made it up. They can be confused and amused, I have discovered."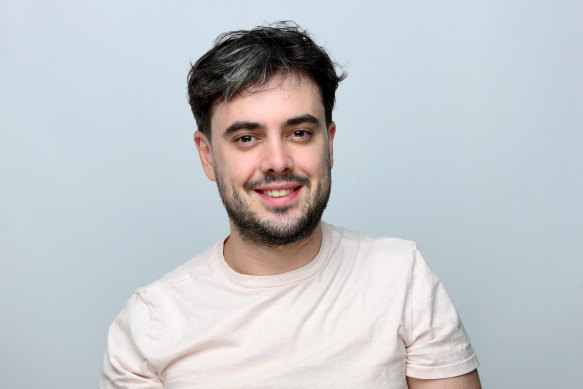 The release of Koala man is in some ways the culmination of a journey Cusack has been on since 2010, when he finished an independent feature film and decided to explore animation. Soon after a boom in original animated shorts started on YouTube, Cusack—who had downloaded Flash animation software and worked his way through online tutorials—became part of it with Damo and Darrena series of anthropologically observed conversations between a pair of ill-tempered ne'er-do-wells.