Mac Photo Organizer Peakto adds multi-application photo annotation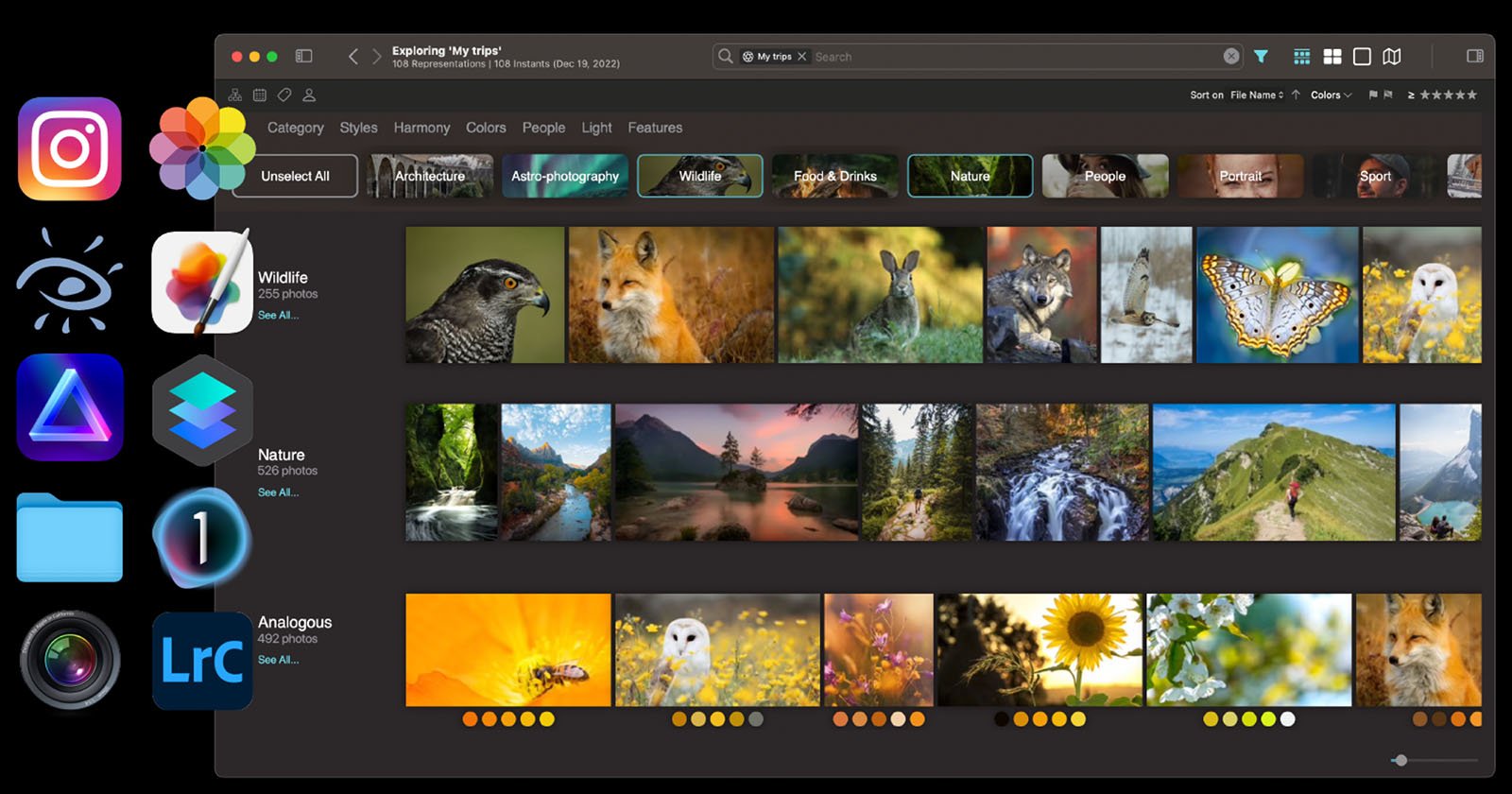 Cyme has announced a new version of its universal photo organizer for macOS, Peakto. Version 1.5, codenamed Pic-Saint-Loup, adds annotation features to the artificial intelligence (AI) photo meta-catalog.
Peakto is compatible with Lightroom, Luminar, Capture, Apple Photos and most recently Instagram. The new update allows photographers to comment on their images in compatible apps through a unified interface.
The borderless annotation feature can be applied to hundreds of photo catalogs at once, complementing Peakto's existing artificial intelligence annotation feature that automatically assigns keywords and categories to images.
"Our photos are scattered in different folders, software and formats. We created Peakto to put photographers back in control and enable them to find, organize and create albums from all their images," says Matthieu Kopp, co-founder of Cyme. "This new borderless photo annotation feature is essential for good organization and solidifies Peakto's status as the hub for discovering, finding, organizing, selecting and exporting photos."
Peakto combines all the images of photographers in one place. In a single interface, photographers can view all their images in different apps and catalogs and assign stars, colors, favorites and flags to them, regardless of where the photos are stored. Peakto restores annotations created in the original catalog while allowing users to create new ones within Peakto itself.
Users have two options to search for specific images or select images within Peakto. The app can automatically assign keywords using artificial intelligence, or the photographer can create personal notes. "Peakto makes it easy to share the best images from a shoot, create a themed album, or choose visuals for a book or portfolio," says Cyme.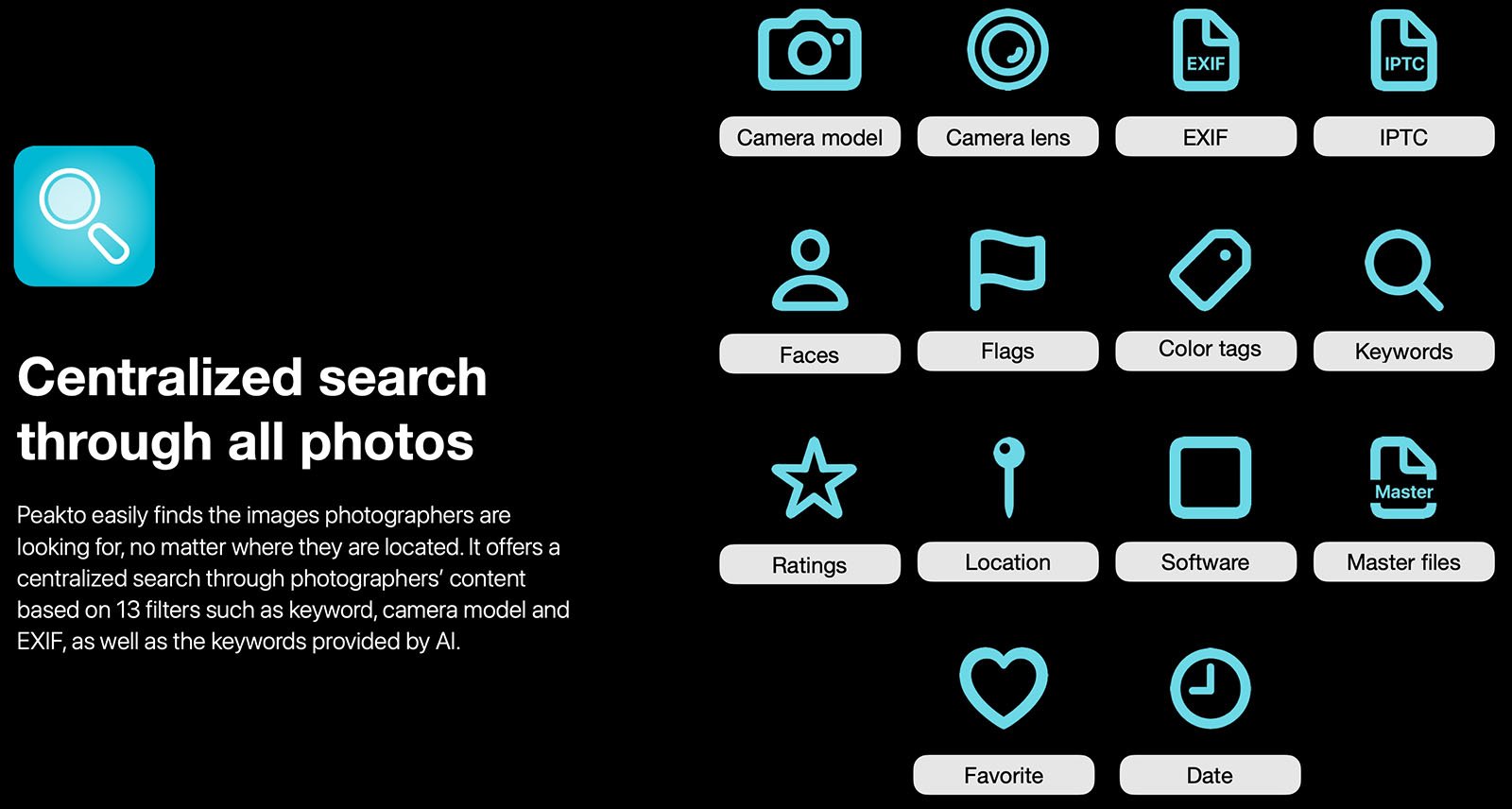 Peakto's AI tools classify all images based on their content. For example, wildlife pictures are grouped together, portraits, etc. Artificial intelligence also selects the photographer's best shots and assigns points to the images. In addition to content recognition, photos can also be sorted by color, contrast and brightness.
Even if photos are scattered across multiple apps, users can batch export images in full resolution. Peakto alerts photographers when an image is not available in high enough resolution for a given outport task. Exports include all their metadata, including author and copyright, location, date, keywords, and more, including new cross-app annotation information.
As photographers edit images in their image editing app of choice, Peakto stays up-to-date and offers live previews of images. When users click an image in the Peakto app, the photo opens in the software used to edit it. When photographers edit the same image in multiple apps, all versions are grouped together within Peakto, making it easier to manage older photos that have passed through different apps over time.
In addition to the new annotation feature, Cyme announced some of its plans for Peakto, including updates later this year that will improve navigation of all stored photos, better export functionality, more useful AI image evaluation, and make it easier for users to share their best their pictures.
Peakto is only available on Mac with a subscription or lifetime license. Subscriptions start at $9.99 per month or $99 per year. One time purchase is $189. Peakto is optimized for Apple silicon and requires macOS 11 (Big Sur) or later.
---
Image source: Peakto