Fury as the "devastated" woman learns the shocking truth about her boyfriend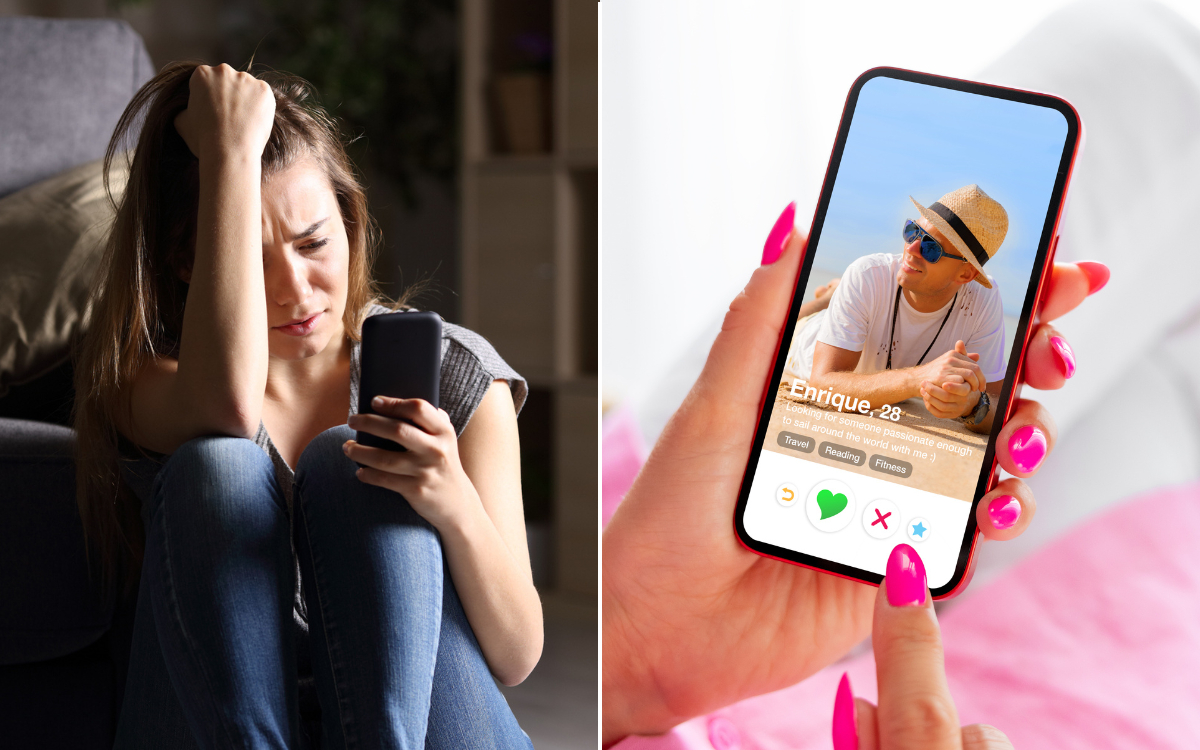 A woman who began a relationship with a man she met on an online dating site nearly two years ago has described how she was left "devastated" after the truth about his life finally emerged.
According to the Pew Research Center, 30 percent of American adults have used a dating website or app to meet their future partner.
However, the experience of using such platforms has proven something of a mixed bag – especially for women. The same Pew Research Center data showed that while 48 percent reported positive experiences, 51 percent reported negative ones.
Given the relative anonymity of online dating, it's perhaps no surprise to see the occasional horror story come to the fore on social media. One woman found herself the target of scammers, while another canceled a date after he asked her to send him a picture of a random body part.
But one story chronicled by a 45-year-old divorced mother of two will ring painfully familiar to many, and contains some dating red flags that would send many running for the hills.
'Something is not right'
She started dating a "wonderful guy" back in November 2021, but immediately sensed that "something was wrong."
After researching the relationship on social media for a few months, she realized he "lied about his name." When she confronted him, he told her that he had originally lied for security reasons, then admitted that he was "still married" but was "completely separated" and would get a divorce if they sold the house they shared.
Although she accepted his explanation, she said the "sense of dishonesty" never left her and she became suspicious again when he told her he was living with friends and then his parents. "For some reason it didn't work for me," he wrote. "So I did some research and found out he hadn't left his family home."
She confronted him once more about her allegations and he again tried to plead his innocence, telling her they were divorced and he was sleeping on the couch while they tried to sell the house.
Things came to a head last summer when she went on vacation with her kids and parents. According to the post, he "promised" that his wife was not with them. But when she started to investigate, she found it was a lie again.
The woman said she was left "sickened and devastated" by the discovery, but her partner again had objections, telling her it was the "last family holiday" and he "couldn't be honest" because he knew it was would upset him. .
Despite providing "evidence" to prove they slept in separate rooms, the woman said "nothing" had changed in the months since, and although she was "absolutely in love" with him and had introduced him to friends and family, she had yet to yes. meet any of them.
The account, posted to Mumsnet under the handle Task77, set off alarm bells for many, including Boston-based relationship writer and expert strategist Helena Roman.
"Faking the Future"
"I've seen a lot of well-intentioned people, especially women, who fall for the deception of married men," Roman said. Newsweek. "This is one of the risks in today's online dating world, and women in their 40s and 50s are particularly vulnerable. Some men deliberately create an online dating profile in the hope of promoting an extramarital affair. While there are always exceptions, most are married Men who have secret affairs rarely leave their spouses."
According to Roman, it often happens that married men use extramarital affairs as an "escape" from the mundanity of their everyday lives. "Even when they make promises about a future together, they feel safe because they know it will never happen in reality and their goal is to keep their relationship partner on the hook," she said. "The problem is that as women, we have an internal desire to see the good in people. However, when our partner keeps breaking promises or lies, this describes what relationship experts call 'future faking.'"
He warned that in this case the woman could get stuck in a vicious circle of lies and false confessions. "It's not uncommon for men caught in a lie to 'open up' to their relationship partner in hopes that this sudden honesty will keep their relationship partner," Roman said. "However, stagnating cycles of waiting can be unhealthy. If you've found a partner who has lied repeatedly, it can also affect insecurity and trust."
Many on social media called on the woman to end things as soon as possible.
Aquamarine1029 said: "He did nothing but lie to your face, over and over and over, yet there you are, still with him." Dartmoorcheffy agreed, writing: "If he was wonderful and truly loved, he would be with you and not his wife."
Marchforward meanwhile remarked, "You've allowed him to lie to you for years. He's not going to suddenly tell the truth."
While some suggested that the woman confront her partner's wife, Roman suggested that she distance herself from the man and "concentrate on self-care. . . . If a man's intentions are in the right place, he makes himself available and doesn't bind either partner nor". she finished.
Newsweek could not verify the details of the case.
Have you noticed any red flags that caused you to end a relationship? Let us know at [email protected] We can get expert advice and your story could be featured in Newsweek.