Eventbase Launches Next-Gen Personalization for Discover in the Official SXSW Go 2023 Mobile App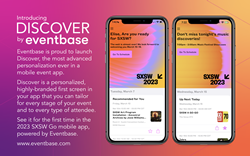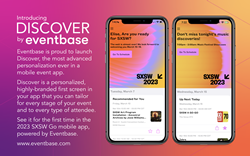 "SXSW can be daunting when attendees have access to thousands of sessions and experiences across the city of Austin." says Justin Bankston, CTO of SXSW. "We love Eventbase's new Discover feature, which allows us to present a customized app welcome screen to each attendee…"

AUSTIN, Texas (PRWEB)
March 10, 2023
Eventbase, the world's leading event app platform, became an industry first by introducing its advanced new personalization feature at South by Southwest® Conference and Festivals (SXSW®), which kicked off today in Austin, Texas.
The SXSW® GO mobile app, presented by Showtime and powered by Eventbase, helps attendees plan and navigate this massive event. This year, the app features a new personalized welcome screen that changes throughout the day to help answer the question, "What can I do next?".
This dynamic welcome screen is powered by Eventbase's newest feature: Discover. "SXSW can be daunting when attendees have access to thousands of sessions and experiences across the city of Austin." says Justin Bankston, Chief Technology Officer of SXSW. "We love Eventbase's new Discover feature, which allows us to present a customized app welcome screen to each attendee. We help guide them through their own version of the ideal SXSW experience."
Discover is a brand new feature that allows event organizers to create a perfect, personalized and highly branded first screen for their Eventbase-powered mobile event app.
Event organizers can easily customize these screens to capture the excitement of each special moment in every phase of the event, and even create unique Discover screen sequences for different types of attendees. The SXSW team created 50 unique Discover screens covering the entire SXSW lifecycle: before, during and after the event.
Before SXSW, attendees saw a Discover screen that read, "The wait is almost over!".
This screen also featured "SXSW Recommends," a series of personalized recommendations based on a variety of factors, including events attended by attendees, as well as time, location, and popularity. Discover can highlight featured sessions, such as keynotes and other must-see sessions. During the event, Discover will also include "Up Next Today" and "Coming Up Tomorrow" to highlight sessions that the attendee has marked as favorites on their schedule. As the event progresses, the welcome screen messages will change to highlight key moments such as:

Opening of the SXSW Registrant Lounge

The interactive opening party

The beginning of every SXSW show

The SXSW Pitch event

Launching the SXSW Comedy Festival

The start of the SXSW Music Festival

Film and TV festival award ceremony
The SXSW team also included some fun welcome messages to surprise and delight attendees at various times throughout the event.
After the event, Discover is a great tool for promoting fresh content throughout the year, as well as announcing dates and details for upcoming events and next year's shows. Discover is available now and is free for Eventbase Premium Event License customers.
The 2023 SXSW Go mobile app is available on the Apple App Store and Google Play Store. About Eventbase Eventbase has set the gold standard for live event technology for over a decade, powering mobile event apps for global brands such as SXSW, Salesforce, Cisco, SAP and Deloitte. Recognized with more awards than any other event app platform, Eventbase has won "Best Event App" at the Event Technology Awards six times, including SXSW App in 2022. Eventbase's mission is to bring people together for the magic of live events.
About SXSW
SXSW strives to help creative people achieve their goals. Founded in Austin, Texas in 1987, SXSW is best known for its conferences and festivals that celebrate the convergence of the interactive, film and music industries. An essential destination for global professionals, the event offers sessions, presentations, screenings, exhibitions and various networking opportunities. SXSW proves that the most unexpected discoveries happen when different subjects and people meet. SXSW 2023 will be held March 10-19, 2023. For more information, visit sxsw.com.
Share this article on social media or email: