Epic Games has big plans for its business, its mobile apps are ready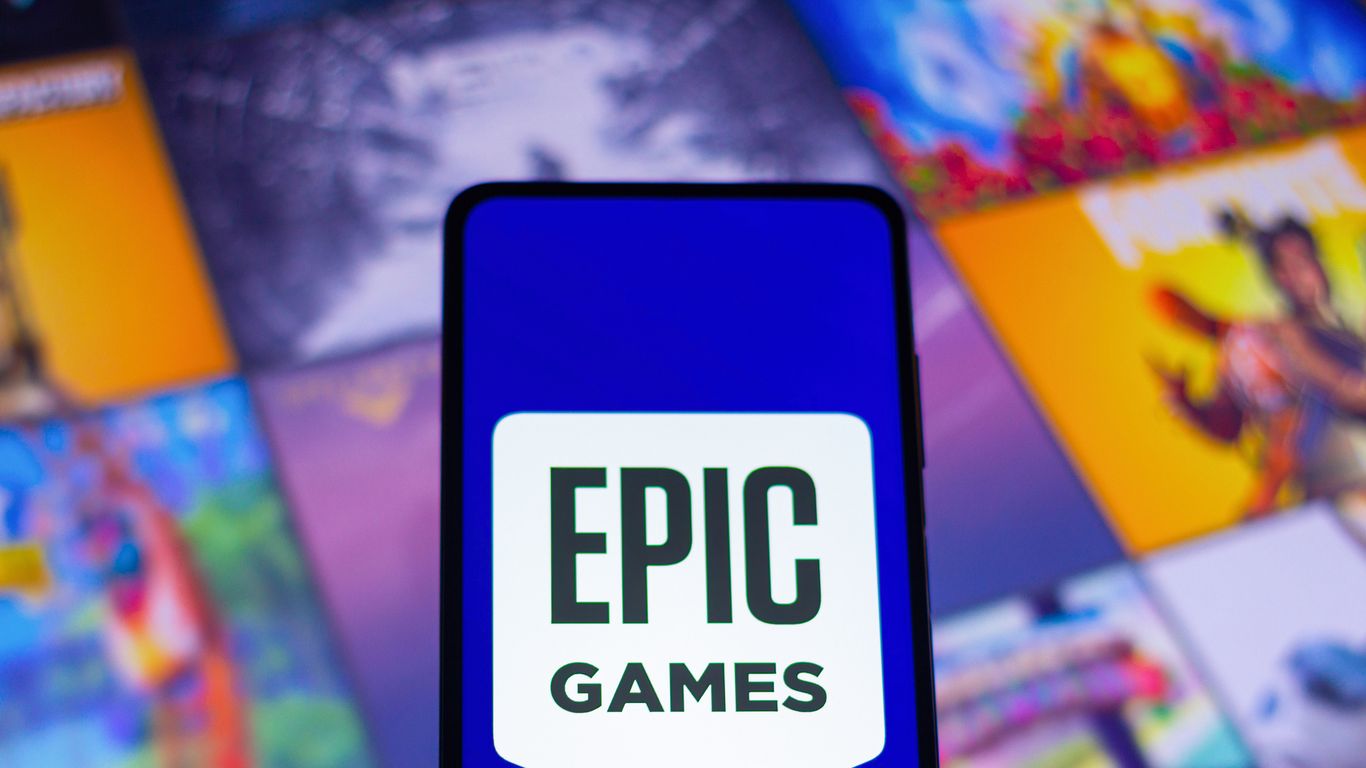 Photo illustration by Rafael Henrique/SOPA Images/LightRocket via Getty Images
Epic Games is steaming ahead with its 4-year-old online store, today launching self-publishing tools for video games and gearing up for the day it finally comes to iPhone and Android.
Why it matters: The company behind Fortnite and Unreal Engine has big ambitions to change the global marketplace for games and apps.
What they say: "I always thought there was a tipping point that we were getting closer to," Epic Games CEO Tim Sweeney told Axios. "A new breakthrough, a new Cambrian or evolutionary type event in the history of business will get us out of the predicament we've been stuck in for so long."
According to Sweeney, most digital marketplaces have "one store per platform that charges much, much higher than any real store would mark up their goods because they're the only one."
Game Status: The Epic Games Store is trying to catch up with its PC rival, Steam, which it outed in late 2018 by offering developers an 88%/12% revenue split instead of the traditional 70%/30%.
Epic also takes issue with Apple and Google, suing both companies – with mixed success – over their app store policies.
According to Sweeney, the end result is that Epic's store will be deployed on iOS and Android, which legal challenges and regulatory pressure will eventually allow. (When asked if Epic has the apps for those platforms ready for deployment, Sweeney says, "Yes, they do."
There is more: While Sweeney doesn't express any keen ambition to bring the Epic Games Store to Xbox, PlayStation or Switch, he does say that Epic wants to work with all platforms to "conform to certain industry standards for recognizing player rights and recognizing player social systems for the sake of".
In other words: buy a game on one device and own it everywhere; join a friend on one platform and connect with them anywhere.
Numbers: In 2022, its fourth full year of operation, Epic says its store reached 68 million monthly active users, up from 62 million in 2021.
Valve reported 132 million monthly active players on Steam in 2021, but shifted to emphasizing record concurrent player numbers in 2022.
Steve Allison, CEO of Epic's Store, estimates that the Epic Games Store library is much smaller, about 1% of games sold on Steam.
Epic's new self-publishing tools, launching today, aim to solve that by opening up the market to many more games, albeit with stricter content restrictions than Steam — no porn, for example — which Allison says prevents them from completely catching on. up in terms of the total number of games.
The store is profitable with Epic's 12% cut of revenue, Allison says, though the company spends beyond that on exclusives and marketing (reportedly keeping it deep in the red for now).
Between the lines: Epic Games Store's popular monthly free games will continue in 2023, but the company is not focusing on EGS as a place for exclusive games.
Early on, Epic paid millions, in at least one case nine figures, to exclusively sell a few big PC games like Borderlands 3 and the celebrated Hades.
A sustainable approach can't rely on sourcing expensive exclusives, says Allison, noting that the share of store revenue from exclusive games has fallen healthily from 75% in the first year of business to 40-45% by 2022.
"The message is definitely changing from 'we're the place to do exclusive partnership deals' to 'we're a great option that you have to launch at the same time as console and PC,'" Allison.
Epic will generate some PC-exclusive titles through its nascent game publishing division, which has around 15 PC/console titles, including Remedy's Alan Wake II. Sweeney said games from acquired studios like Psyonix and Mediatonic will help, though he downplayed the chances of Epic buying more teams. Epic has "no intention of expanding to become a huge gaming conglomerate like Activision or Electronic Arts."
What is the next step: Sweeney wants Epic's store to expand well beyond games and the relatively handful of non-gaming apps it currently offers.
"This 'Epic Games' store," he tells Axios, "is not Epic's game store."
Sign up for the Axios Gaming newsletter here.