Best Music Streaming App in 2023?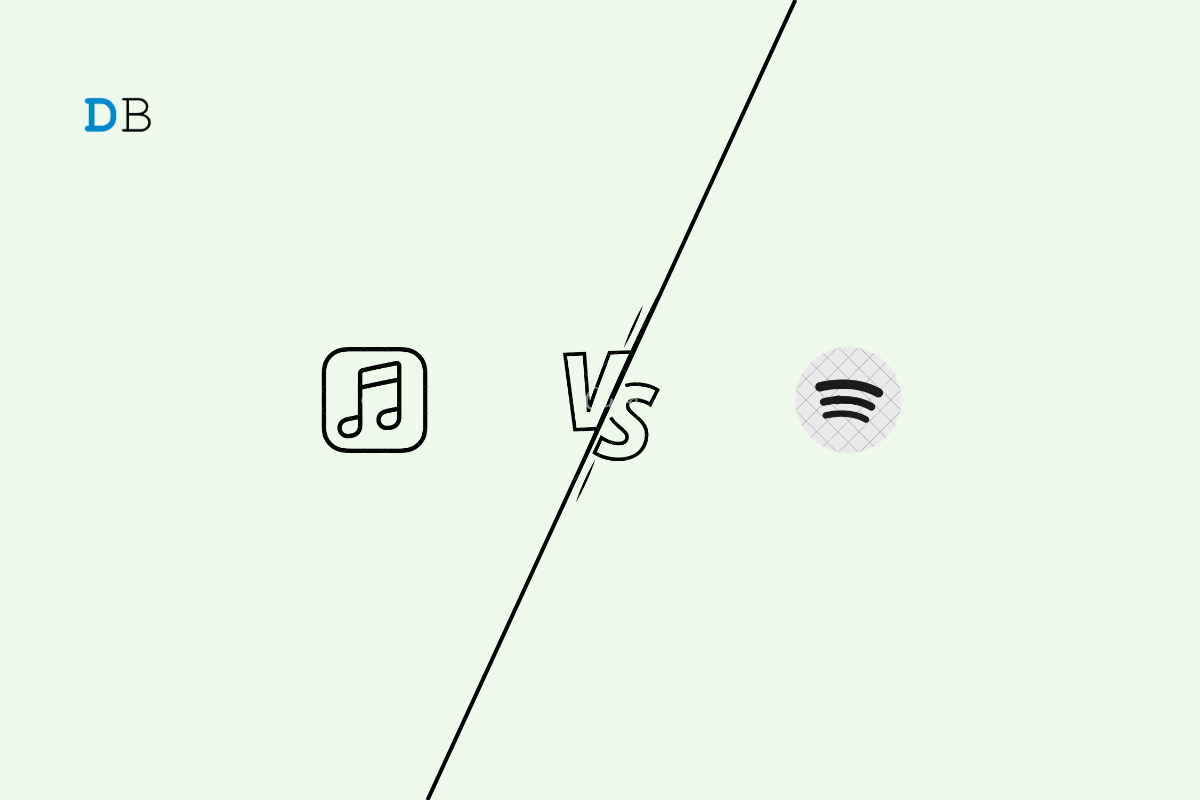 Apple has always dominated the music industry with the iPod and AirPods, but it has fallen short in the music streaming service. While iTunes was a subpar, mediocre product at best, Spotify emerged as a better competitor. After the failure of iTunes, Apple responded with Apple Music. And if you've ever wondered which one stood out, here's a perfect Apple Music vs Spotify comparison.
Imagine Apple going out of its way to keep up with another product, and you've got everything you need to know about Spotify. Brought to you by the Swedish giants, the music app changed the game and continues to do so. The answer speaks for itself, as 188 million Spotify users have premium subscriptions, compared to 88 million Apple Music users. However, with recent improvements to Spatial Audio and a much better mobile app, Apple has done its best to stand out by offering some advantages over Spotify. But no spoilers for now. Let's see which one beats the other.
Apple Music vs Spotify: Music Library
Apple Music claims to have a library of more than 90 million songs, while Spotify has more than 80 million songs. However, the difference in numbers is not decisive, since according to our experience, we can easily find results for any song you are looking for in both applications.
Unavailable on Spotify was not available on Apple Music and vice versa – this is probably music that is not allowed for streaming. We sincerely believe that any of these apps will be enough for your music taste. Moreover, we tend to like indie, alternative and not-so-mainstream music, so it was no problem to find music in every genre.
But Spotify also added an extra function, i.e. we can also listen to podcasts. While we used the Apple Music app, one overlooked feature was listening to podcasts on the same app. This is the main reason we keep coming back to Spotify.
In addition, Spotify includes all the popular podcast titles. It seems to be the best platform for creators to make their podcasts exclusive – like the Joe Rogan Experience and the Michelle Obama Podcast.
Winner: Even though it's a tie, Spotify still wins the tie
Apple Music vs Spotify: Recommendations
The main advantage of the online streaming service is that anyone can easily discover new music without manually searching for it, but we will try to understand the difference between the two, Apple Music vs. Spotify, which one is best. Both Apple Music and Spotify have separate sections for discovering new and trending music, but we think Spotify does a better job here. Spotify also provides a 'Discover Weekly' playlist that is updated every Monday and is a fascinating way to discover music. Even on Spotify, it's easy to find new albums and songs.
Apple Music uses the "Just Ask Siri" function to search for new music and includes music for different themes and environments. They also offer a radio feature which is good for discovering new music across genres and topics (more on that later). They do their job, but most of the songs we usually come across are already popular enough, so there's no need to search.
Winner: Spotify
Apple Music vs Spotify: Sound Quality
Apple Music is not just a pure competitor to Spotify, it is also focused on creating its own identity, and the most significant evidence is Spatial Audio. Combined with Hi-Res Lossless playback, the immersive music experience is unsurpassed. Spatial Audio means listening to music that feels like it's coming from different directions, creating an immersive experience.
So, in the simplest of words, we can listen to many more sounds and instruments in the background, which are hidden on Spotify. The influence of heavier instruments such as drums or bass is strongly felt in Apple Music.
Apple Music also provides an additional feature called Dolby Atmos, which creates surround sound on supported listening devices. Spotify isn't that bad though. It's still good and will be fine for most listeners. So once you hear the sound quality of Apple Music, there's no going back.
Winner: Apple Music
Apple Music vs Spotify: Platform availability
Apple Music and Spotify are both available on iOS, Android, Windows and Mac.
Spotify must be installed externally on all platforms, along with the Mac and Windows web apps. You can see the download links below.
Apple has made the Apple Music app available by default on Mac, but it is not the same for IOS and Android. If you want to listen to Apple Music, you need to install iTunes, and it's not an app that has gone down well with users over the years. However, you can use the Apple Music web app instead. Here are the download links for the same.
Winner: tie
Apple Music vs Spotify: Sharing features
Apple SharePlay lets you connect with friends while listening to the same music, provided they have a subscription. Spotify also provides a similar group listening session feature – but everyone in the group must have a premium subscription. Also, music sharing is available in both apps as links to songs can be shared on various social media platforms with one click.
Winner: Spotify for supporting cross-platform group listening.
Apple Music vs Spotify: Playback features
The best part about Spotify is that you can quickly switch between devices while playing music. You can even sign in from multiple devices with the same account and easily switch music playback from one device to another.
On the contrary, Apple has a similar AirPlay feature, but streaming music is only possible through devices that support AirPlay. Unfortunately, they don't include Android phones or Windows PCs. This is where Spotify excels, as it supports playback switching regardless of which platform the app is running on.
Winner: Spotify
Apple Music vs Spotify: Price and Plans
As for pricing, the first subscription to Apple Music and Spotify is free with a three-month trial period. You can also easily download content on both Apple Music and Spotify for offline use with the premium versions.
The main reason for asking for a detailed comparison between Apple Music and Spotify is because of how closely priced they both are. Generally, the price difference is a deciding factor for most buyers; but in this case you need to know more.
Spotify subscription package:
Apple Music subscription package:
Given how much we use music streaming apps, we think both offer great value as long as you don't want to subscribe to more than one account. This is where Spotify excels, as it offers a competitively priced Duo package that Apple Music doesn't have.
Winner: tie; Spotify wins over Apple Music with its Duo plan.
You may also be interested in the comparison between Spotify and Youtube Music.
Final takeaway
I hope this post on Apple Music vs Spotify has added to your knowledge of the Apple Music vs Spotify debate. If you have any comments or suggestions, please leave them in the comments section below. To learn more about us, visit our YouTube channel. Glory!